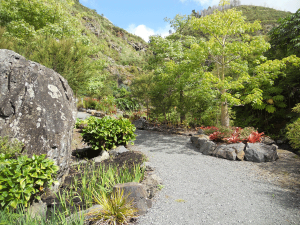 10 minutes drive from Lupton Lodge you will find the tranquil oasis of the
Whangarei Quarry Gardens
project – New Zealand's subtropical paradise. Entry is by donation and parking is free onsite.
The site is a community project created by passionate volunteers in an old quarry. There are 2 waterfalls, a substantial lake, garden walkways, bush walks and attractive picnic areas all within a stunning terraced amphitheater planted with native plants and trees and subtropical species.
There is a newly opened cafe overlooking the gardens which is also well worth a visit.
Suitable for families, garden lovers or people who enjoy nature – spend a few minutes as you are passing or a couple of hours if you have the time exploring this magical place.
To get there from State Highway 1 in Whangarei turn West onto Russell Road at the bottom of the on the dual carriageway or into Douglas Rd just North of the Kensington Stadium.
If you are a garden lover visiting Whangarei, here are some other Whangarei gardens you might enjoy:
Cafler Park Rose Gardens
Laurie Hall Park (next to Farmers)
Lupton Lodge – guests staying at Lupton Lodge can enjoy our spacious mature gardens and orchard filled with an abundance of fruit and nut trees