Whangarei district has a range of cycling routes for all ages and capabilities. You can bring your own bikes or hire them at the Town Basin when you visit Whangarei.
Some popular cycling routes in Whangarei include:
Hatea Loop Cycleway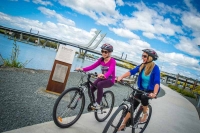 4.2km waterfront track starting/finishing at the Town Basin. The track is mostly flat and has a sealed concrete surface. Stopping points along the way include art and history points, scenic lookouts, 2 "BMX" tracks, playgrounds and a range of cafes.There are plenty of grassy areas where you can stop for a picnic or a rest enroute.
This track is suitable for beginners. There are several public toilets on route. The path is shared with walkers.
Waimahunga Track
6km cycling route joining the Hatea Loop Cycleway to the Onerahi waterfront. This track has been recently extended with the final connection completed in July 2016. The Waimahunga Track can also be completed as a return journey from Onerahi waterfront, where you can take a dip in the sea or have a picnic in the park at the end of your ride.
The track is a combination of bush, waterfront and road riding. There are some hills so is suitable for ages 7 years+. Most of the track is unsealed. This is a combination walking and cycling track.
Glenbervie Forest Mountain Bike Tracks
The Glenbervie Forest has a range of hilly tracks through the Rayonier Matariki owned pine forest. The roads and tracks are not all maintained to an equal standard. There are some maps available for the forest but not a lot of markers on the track itself. We recommend that you take a phone and compass if you are leaving the roads in the forest to avoid getting lost.
Mt Parahaki – Abbey Caves Road Mountain Bike Track
From the eastern side of the top of Mt Parahaki to Abbey Caves Road runs a hilly mountain bike track suitable for moderate to experienced riders. The track is on a steep hill and runs through the bush. There is a car park on Abbey Caves Road where you can leave your vehicle.
NB. Not all of the open roads around Whangarei are suitable for amateur cyclists, even though the scenery is spectacular, so please do your research or ask for advice before setting out on a road ride.
Lupton Lodge has safe storage for bikes on-site for guests and a range of facilities such as wash-down and drying areas for bikes and gear.