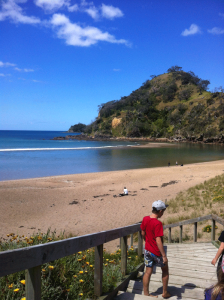 Less than 30 minutes drive from Lupton Lodge is the stunning seaside village of Pataua North. Pataua North beach is a golden sandy beach, ideal for walking, swimming, playing or relaxing…
Pataua is made up of 2 holiday destinations popular with locals: Pataua North and Pataua South. Pataua South can be only reached by road via the Whangarei Heads. The two are joined by a charming footbridge. At low-tide locals enjoy digging for pipi (shellfish) in the sand – bring a bucket and give it a try.
There are no shops in the area so bring your own picnic and supplies.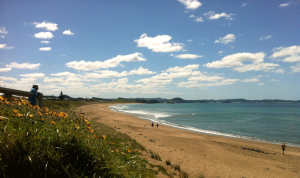 Pataua North has an idyllic estuary and a breathtaking beach. If the conditions are right you can surf or if you want calmer seas choose between the beach or estuary to suit your comfort zone.
Spend an hour or stay for the day – Pataua North is definitely worth including in your itinerary when you are staying in Whangarei.
Getting to Pataua North from your accommodation at Lupton Lodge:

drive south on Ngunguru Rd. Turn left at Harris Road
turn left at the T-junction
follow Pataua North Road until you reach this little piece of paradise (this road is quite windy and takes about 20 mins)