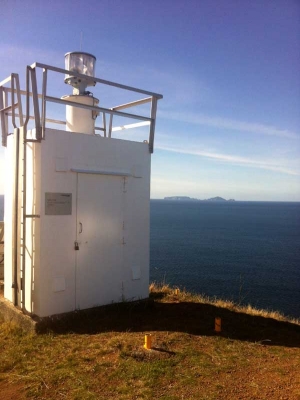 If you love amazing coastal views and don't mind steep hill tracks the Tutukaka Lighthouse Walkway is well worth the effort. The entire walk takes about 1 hour (or longer if you want to spend ages gazing at the awe inspiring view).
It is important to set off within 1 hour either side of low tide so that you don't get stranded at the causeway when the tide comes in. You should wear good walking shoes.
When you reach the Tutukaka Lighthouse you get stunning views of the Poor Knights Islands, Tutukaka Harbour, Great Barrier Island and the coastline.
Photos of the Tutukaka Lighthouse Walkway
How to Find the Tutukaka Lighthouse Walkway
To find the carpark turn right off Matapouri Road (when travelling North) 600m after the Tutukaka Marina. There is a signpost at the corner to the Lighthouse and Landowners Lane. Take the right fork in the road about 1/2 way along. There is a carpark at the end with 2 tracks.
The track through the grass leads to the Lighthouse. The track through the trees heading downhill goes to a small pebble beach in the Tutukaka Harbour.
To get to the Tutukaka Lighthouse follow the grassy path over the hill until you get to a stony beach/causeway. Cross this beach as long as the tide is low enough and you will find the continuation of the track on the far side heading up the hill through the bush (the is Kukutauwhao Island).