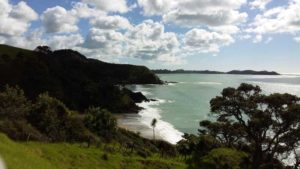 If you love long walks through farmland surrounded by stunning coastal scenery then the Sandy Bay to Whananaki South walkway is the one for you. The return distance from Sandy Bay to the end of the walkway is 12km – allow up to 6 hours. The official walkway ends at a gorgeous white sandy beach – the perfect spot to cool off with a swim. If you want to walk further to Whananaki South and the footbridge to Whananaki North then add on about 30 mins extra in each direction.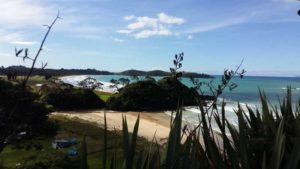 The track is mostly hilly and crosses through both farmland and DOC land. You should be physically fit, have good walking shoes and take plenty of food and drinks with you for this walk. When we last walked the track it was well maintained and easy to follow. That may vary depending on the time of year.
Park your car at the top of McAuslin Road at Sandy Bay, Tutukaka Coast to start the walk.
The driving time from Sandy Bay to Lupton Lodge is about 30 minutes. Order your dinner before you leave and we can offer you a powerful hot shower, delicious meal and a comfortable bed at the end of your day.