The Tutukaka Coast is only 20mins North East of Whangarei. In 2010 National Geographic Traveller Magazine rated the Tutukaka Coast in the top 2 coastal destinations worldwide.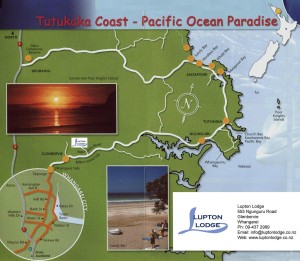 Click on the Tutukaka Coast map to enlarge.
Visit the spectacular Tutukaka Coast on your next trip to Northland. Stunning beaches, world-class scuba diving (home of the Poor Knights Islands – World top 10 dive spot), great food, action adventure for all ages, fishing, kayaking, beach & bush walks and arts & crafts.
The Tutukaka Coast is an unforgettable location to visit during all seasons. Find out more about things to do around the Tutukaka Coast, Poor Knights diving & snorkeling and our suggested driving route.
For quality accommodation near the Tutukaka Coast, stay at Lupton Lodge. Lupton Lodge is ideally located only 10 minutes drive from the coast on the road from Whangarei (see map above). We have no minimum stay period.

For Lupton Lodge bookings or enquiries:
phone +64 21 1373 696
book online
email