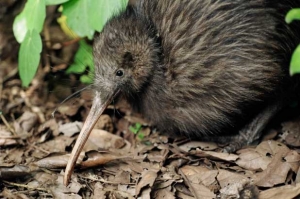 Kiwi North is great for wet days, dry days, families, train enthusiasts and anyone keen to see some live kiwi. Set in an attractive 25ha park the site features a Kiwi House, several historic Victorian buildings, a museum, heritage club collections and boasts excellent views over Whangarei city and harbour.
On our last visit to the recently refurbished nocturnal kiwi house in Whangarei we were fortunate to see 2 kiwi foraging for food and having a fight directly in front of the large glass window. We hope you are just as lucky!
For more information and a list of upcoming events please visit their website: Whangarei Kiwi House, Heritage Park & Museum
Whangarei Native Bird Recovery Centre
The Whangarei Native Bird Recovery Centre is located on the site of the Whangarei Museum and Kiwi House. It is open 10.30am-4pm Mon-Fri for visitors, however we recommend that you phone in advance to confirm accessibility.
Whangarei Observatory
Planetarium North is located on the site of Kiwi North on Maunu Road. You can view the stunning Southern skies on a "Sky Tour" at the observatory most Saturday nights. Visit the website for more information about the timetable.