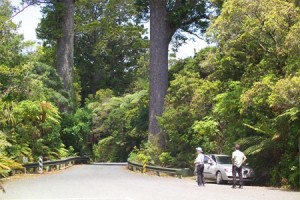 The rugged West Coast of Northland includes Waipoua Forest, Kai Iwi Lakes and Hokianga Harbour. If you don't mind a bit of driving on windy roads then visiting these scenic and natural attractions make a very rewarding day trip from Lupton Lodge.
Lupton Lodge to Dargaville (45 minutes drive)
Head West off SH1 in Whangarei city towards Dargaville. In Dargaville stop into Blah Blah Blah Cafe for a quick bite or pop up to the top of the Hill for the Dargaville Museum and Lookout.
Dargaville to Kai Iwi Lakes (30 minutes drive)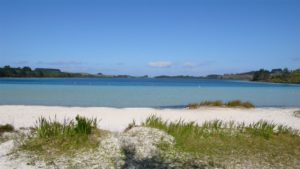 Drive North from Dargaville Village until you reach the turn off to Baylys Beach (turn left – 20 minute detour). You can drive right down to the long rugged West Coast beach from there. Back at the main road turn off at Kai Iwi Lakes if you have time – the clear blue waters and white silica sands are breathtaking on a fine day.
Kai Iwi Lakes to Waipoua Forest (45 minutes drive)
Back on the main road head North to Waipoua Forest. Before you arrive you can do some walks at the 4 Sisters (4 large Kauri Trees in a bush setting with a range of walkways). Once you reach the main carpark for Tane Mahuta you will find that the path only takes 2 or 3 minutes to get to the main attraction. Tane Mahuta is New Zealand's largest and oldest Kauri Tree and is very magical to behold.
Waipoua Forest to Hokianga Harbour (30 minutes drive)
From Waipoua Forest it takes about 30 minutes to drive north to Hokianga Harbour – a stunning sand dune fringed harbour. Opononi and Omapere are the first 2 villages you come to. There is a shop, i-site, museum and cafe/tavern in Opononi. If you are looking for a mix of great food and a bit of history carry on and take the turning to Rawene where you will find the a historic village and the Boatshed Cafe overlooking the water.
Hokianga Harbour to Whangarei (2 hours drive)
The drive back south to Whangarei from the Hokianga is around 2 hours via Kaikohe and Kawakawa. The Ngawha Hot Springs can be found in Kaikohe – the healing natural muddy waters could be just what you need after a long day driving.